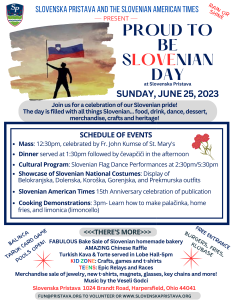 PROUD TO BE S
LOVE
NIAN DAY 2023
Where else can you find ALL things Slovenian, than at PROUD TO BE SLOVENIAN DAY 2023! All are invited to attend this special day celebrating our Slovenian pride. The day will be filled with Slovenian food, drink, dance, desserts, merchandise, games, crafts and more!
Mass will be celebrated at 12:30 pm at the Chapel by Fr. John Kumse of St. Mary's Church. Bring umbrellas for shade and we ask that you do not drive past the chapel during Mass.
A delicious Slovenian style dinner will be served after Mass with Civapčiči available later in the afternoon.
The Slovenian American Times will celebrate 15 yrs. of publication with a special treat for all, so make sure to stop by the SAT table. Congratulations to the SAT!
Don't forget to bring your bathing suits as the pool will be open and the playground will embrace the little ones. The Kid Zone will be available with crafts and games for children and teens.
There will be a special cultural performance of the "Slovenian Flag Dance" which is specially choreographed for this event by Ursi Prosen and Mark Tomc.
The new hall will showcase a variety of Slovenian National Costumes, so come and find the costume of your region.
Would you like to learn how to make palačinka, home fries and limonica? Join us at 3pm in Lobe Hall to get a taste of these cooking demonstrations.
More fantastic activities include a Torok tournament, an amazing Chinese raffle, and our FAMOUS homemade Slovenian desserts will be available as the wonderful bakers of the community display their beautiful creations.
Enjoy a cup of Kava with a piece of delectable torte in Lobe Hall.
Make sure to leave some room in your belly as the Pristava kitchen will be open for all to enjoy the most delicious hamburgers, fries and klobase!
Join us on the outdoor stage as we dance to the musical talents of the Veseli Godci.
Slovenian themed merchandise such as jewelry, glasses, magnets, t-shirts and much more will be available at the merchandise cart.
So, mark your calendar (rain or shine) and bring your family to Proud To Be Slovenian Day.
This special day is sponsored by Slovenska Pristava and the Slovenian America Times.
To learn more or to help out at the event, email fun@pristava.org
VOLUNTEERS NEEDED: we need your help to make this event a success!