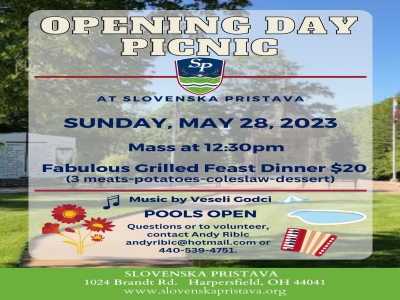 OPENING DAY PICNIC/MASS and POOL OPENS- Sunday, May 28th.
Start off the summer with our Opening Day Veselica featuring "Slovenska Hrana Na Žaru", or Slovenian-style grilling feast!
Mass begins at 12:30pm and will be celebrated by Fr. John Retar.
Dinner will follow and includes a variety of grilled meats cooked to perfection along with side dishes, dessert and coffee. Dinner is $20 and no reservations are needed.
The pool will be open and in the afternoon and we'll dance to the talents of the Veseli Godci.
The kitchen will serve our famous hamburgers/fries and klobase.
Volunteers are needed. If you have questions or would like to help at this picnic, contact Andy Ribic andyribic@hotmail.com or 440-539-4751.