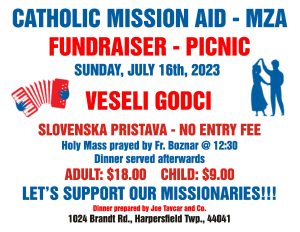 Sunday, 16 July 2023 is the fundraiser picnic of Catholic Mission Aid at Slovenska Pristava.
Fr. Joe Boznar will pray the holy Mass at 12:30 p.m.
Immediately after Mass, Joe Tavcar & Co., will serve a delicious dinner: Adult $18 /Child $9.
Veseli Godci will play for your dancing pleasure.
Please bring your home-baked specialties for the Bake Sale. Anreja Marsic will accept gifts for the Basket raffle.
Cool beverages will be available.
Post-dinner, grilled fare will be served at the kitchen.
Free parking.
Volunteers needed. Call Tony at 216-531-3413 or send an email to meti@aim.com for ticket reservation or information.
We will remember the late Anica Knez and honor Fr. Pedro Opeka who celebrated his 75th year of life on 29 June 2023 at the Holy Mass.
Dear Friends of Catholic Mission Aid/Misijonska Znamkarska Akcija,
The beggar Lazarus lies at the distant gate. He's covered with sores; the dogs lick his wounds (Luke 16). Thirsty and hungry, he yearns for the scraps from our table. I can neither see him, nor hear him, nor smell him. But he is there.
Catholic Mission Aid
15519 Holmes Avenue, Suite 101
Cleveland, Ohio, 44110
On-line donations may be made at 
www.catholicmissionaid.org.