123 Year Journey Complete!
A journey which began in Vienna, Austria, with an artist's vision for a statue of our Heavenly Mother Mary took some twists and turns, but finally concluded at our beloved Slovenska Pristava. The Blessed Mother statue was placed, blessed and dedicated in the newly completed grotto on Orlov Vrh at Pristava's Memorial Mass held on June 20, 2021. About 200 people attended the annual Mass where the fallen Slovenians of WWII are remembered. This year that crowd also bore witness to Fr. Frank Kosem's special prayers over the statue and grotto adorned with lovely flowers.

Marija Brodnik, a Pristava member, offered to donate the statue a few years back after sharing its interesting history with Frank and Nežka Vidmar.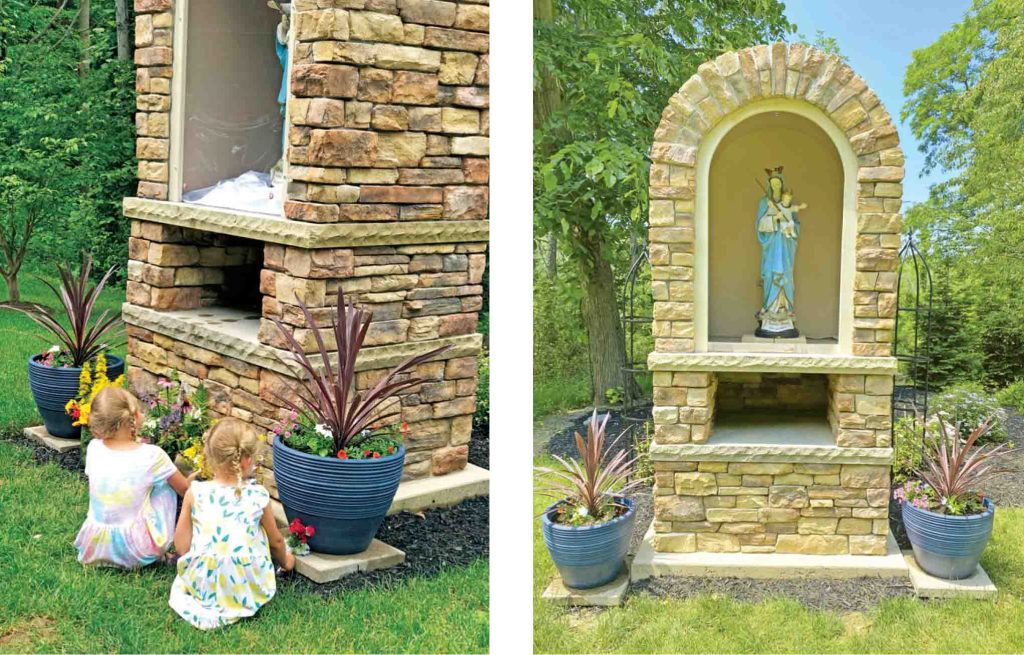 As a girl in Trnovo, near Ljubljana, Slovenija, it was Marija's job to take fresh fl owers and light the candle at the roadside chapel which held the statue across from her home. She developed a devotion to the Blessed Mother and saw the statue get damaged during WWII. She became the statue's guardian and brought it into her home during the scariest of times. Despite the fear and destruction the war brought, Marija believes her fervent prayers to the Blessed Mother protected her and the soldiers she prayed for.

In 1975, when Marija was already in the United States and married, the Communists demolished her home and the chapel in Trnovo to build a new road and bridge. Marija never forgot that statue, so she and her husband arranged to have it brought here in 1984. They completed the required legal paperwork and travel visa for the statue. Since then, the statue has been in the sunroom of her Willoughby home, still constantly surrounded by fresh fl owers.

Generous Pristava members donated funds to build the grotto to house the Blessed Mother statue beginning in 2019. Construction was delayed in 2020 due to an injury of the contractor. As with many things in 2021, the project regained momentum and the statue is in its new home in the Chapel area of Pristava. In 1898, a beautiful statue came to be in Vienna. She inspired a Slovenian girl named Marija and they sustained some hard years together.

Her next stop was to rejoin that girl, now a woman, in her quiet Willoughby home. Now and into the future, that special statue is available and waiting for you to bring her your own flowers and prayers the next time you visit Pristava!

By: Frank Vidmar and Barbara Vidmar Beyer